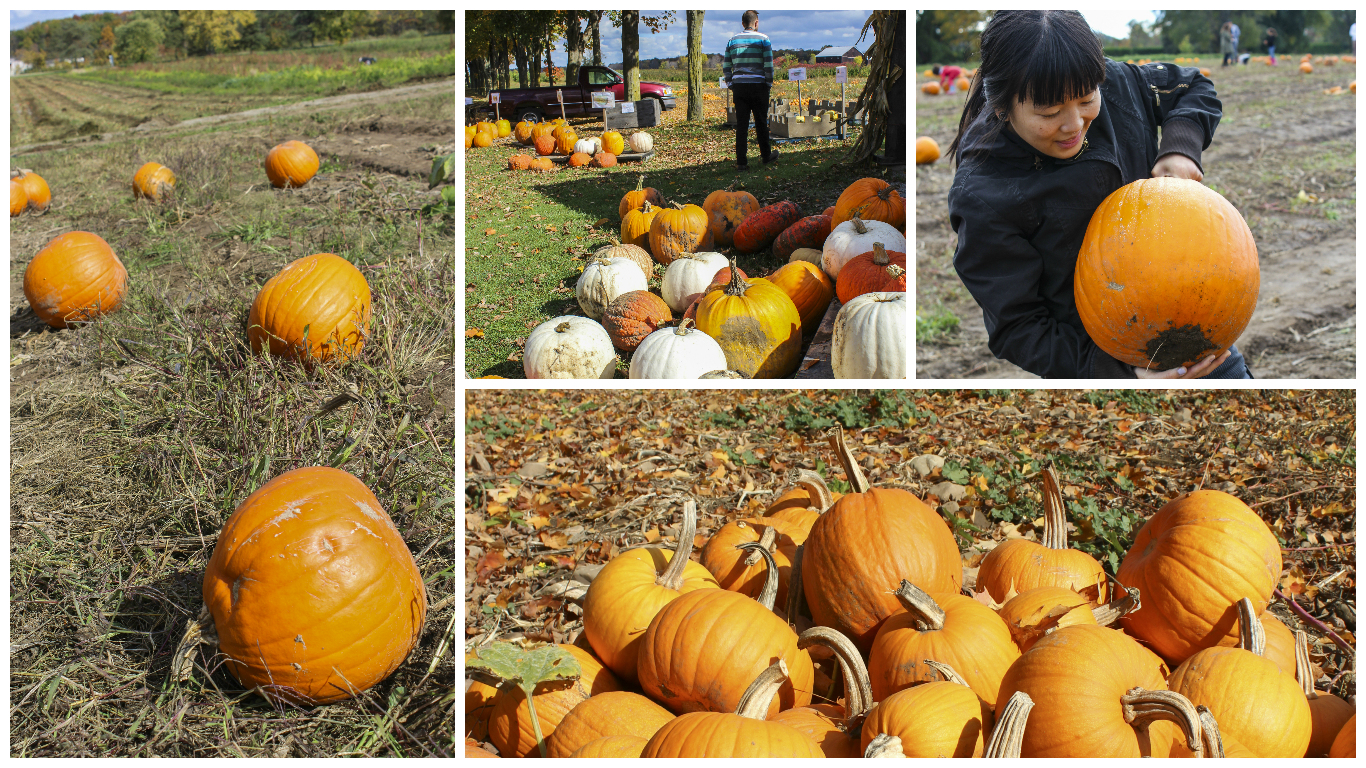 It's pumpkin time!
Grab your friends and family to start your local food adventure by visiting a Greenbelt pumpkin patch to pick your own or to purchase already picked pumpkins' just in time for Halloween.
We've made it easy for you to find a farm that sell pumpkins, whether you want to create the best jack-o-lantern or the tastiest pie use this list to find the perfect pumpkin or pumpkins to take home with you today. Want to know how to store and prepare pumpkins? Foodland Ontario has great tips, click here to view.
Don't forget to share your adventure on Twitter by tweeting @ONGreenbelt or using #ONGreenbelt.
Pumpkin farms in the Greenbelt:
Durham
Pingle's Farm Market, Clarington
Knox's Pumpkin Farm, Hampton
Nature's Bounty, Port Perry
Cooper's CSA Farm & Maze, Zephyr
Willowtree Farm Market, Port Perry
Linton's Vegetable Farm, Oshawa
York
Applewood Farm Winery, Stouffville
Farintosh Farms, Gromley
Homestead Orchards, Georgina
Reesor's Farm Market, Markham
Round the Bend Farm, Kettleby
Whitamore's Farm, Markham
Simcoe-Grey-Bruce
Garden in Thyme, Lion's Head
Marvellous Edibles Farm, Owen Sound
Giffen's County Market, Glen Huron
Peel
Albion Orchards, Caledon East
Horseshoe Hill Apple Farm, Caledon Village
Bailey's Farm Produce, Caledon
Downey's Farm Market, Caledon
Halton
Whole Circle Farm, Acton
Andrew's Scenic Acres, Milton
Marshall's Real Farmers' Market, Moffat
Springridge Farm, Milton
Busy Liz's Farm Shop, Campbellville
Stonehaven Farm Market, Campbellville
Hamilton
Morden's Organic Farm Market, Dundas
Myers Apple Farm, Hamilton
Josmar Acres, Lynden
Martins Homestead Farm Market, Binbrook
Niagara
Hildreth Farms Ltd, Beamsville
Windwood Farms, Beamsville
Creek Shore Farms, St. Catharines
Howell Family Pumpkin Farm, Fonthill
Walker's County Market, Niagara-on-the-Lake
Want to find even more pumpkin farms click here!
– Andreea Nicoara
News category